Places to go, things to see

WALKING DISTANCE OF THISTLEDOWNE
It goes without saying that the twin beaches at Roker and Seaburn are worth a visit along with the pier and lighthouse at Roker. The finish of the coast to coast cycle route (C2C) is also at Roker, marked by the C sculpture.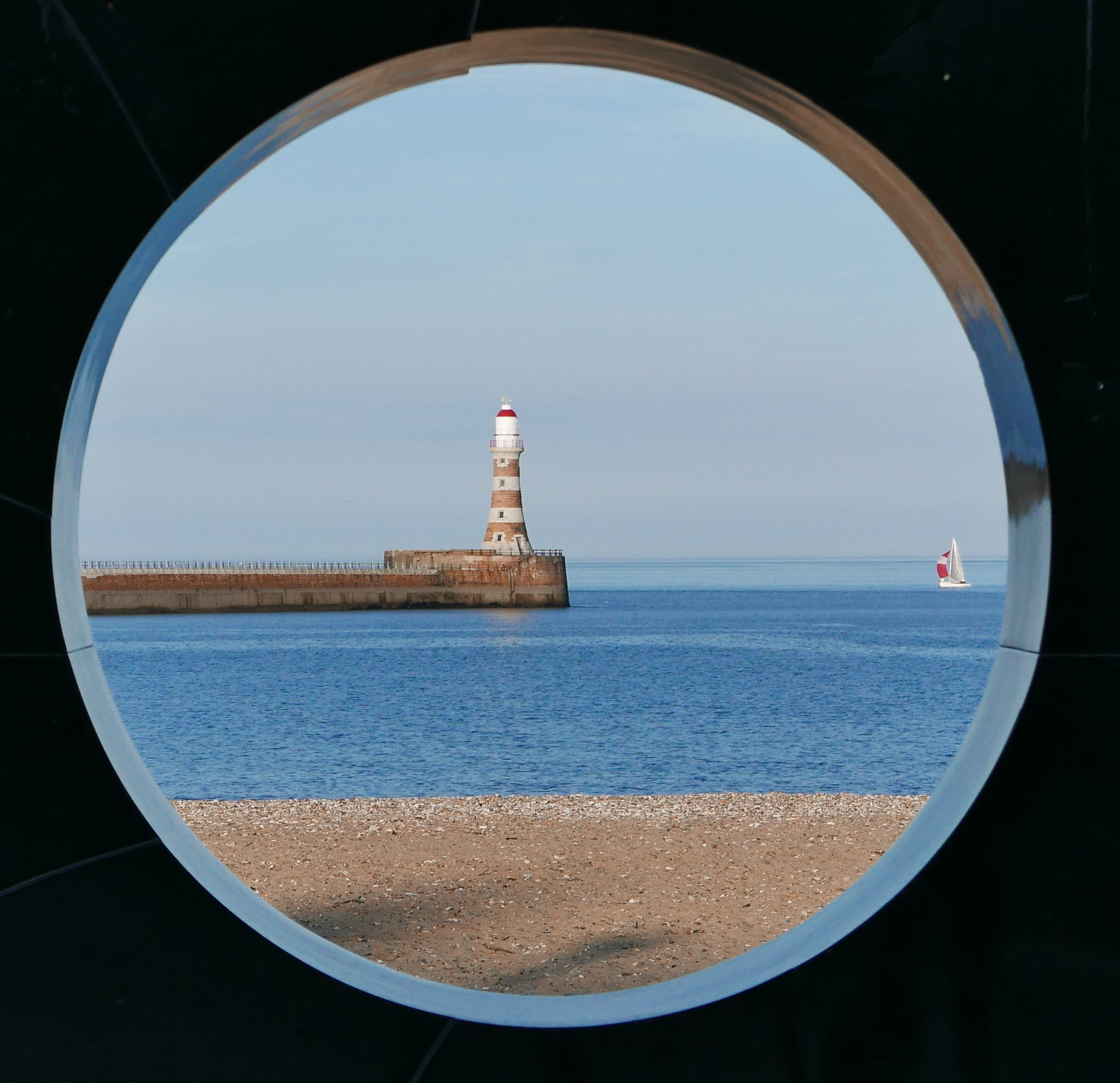 C at the end of the C2C
Close by Thistledowne is the Sculpture Project along the bank of the river Wear, part of which is the Red House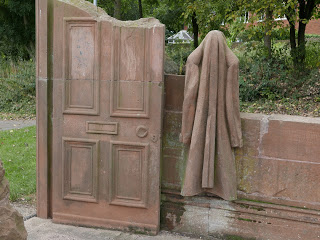 The entrance to the Red House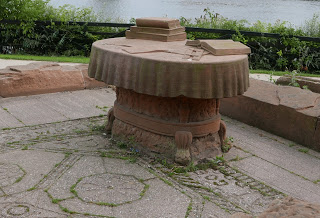 The Captain's Table

The National Glass Centre, part of the University of Sunderland, is the closest place for a coffee and good food. As well as visiting their exhibitions you can buy contemporary and locally made glass and watch daily glass blowing demonstrations whilst the children can play on its glass roof and join in the holiday activities, check their website for dates and times. Its cafe is open 7 days a week and does an excellent Sunday lunch.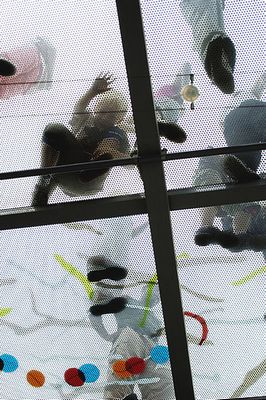 Children on the roof of The National Glass Centre

Walking on along the river you will come to part of the University of Sunderland and then to Wearmouth Bridge where you can go up to street level and cross into the city centre.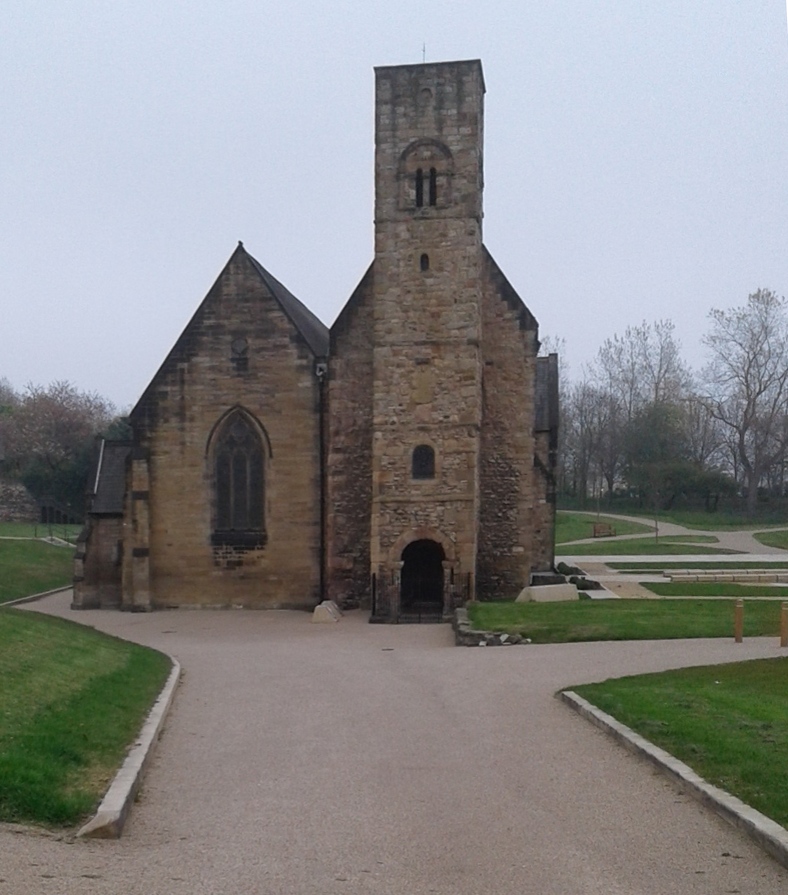 St Peter's Church, Monkwearmouth
Very close to the house is St Peter's Church, Monkwearmouth built in 674 A.D. one of the oldest stone churches in the country. The west wall and porch are part of the original church where the Venerable Bede came to be educated at the age of 7. Somewhat further afield but worth a visit is St Andrew's Church, Roker. St Andrew's is known as the cathedral of the Arts and Crafts movement. With William Morris carpets, Ernest Grimson furniture and lectern and a tapestry 'The Adoration of the Magi' by Burne-Jones it is a must see for anyone interested in the Arts and Crafts period. 
SAFC Fans Museum will open sometime in 2018 in what was the Monkwearmouth Station Museum which was a lovely reminder of a bygone age. The station, which was once the main railway station for the city, opened in 1848 and finally closed in the late 1960's. It opened as a museum in 1973 and despite its very small size had no problem depicting the days of steam. This year the museum will open as a SAFC Fans Museum, I do hope that they have kept the original ticket booths and fireplaces. It remains to be seen whether anyone other than SAFC fans will find anything of interest there.
THE CITY CENTRE
Over the bridge and into the city centre where the Sunderland Museum and Winter Gardens with its large collection of Sunderland lustreware and the adjacent Mowbray Park, are both worth visiting.
Mowbray Park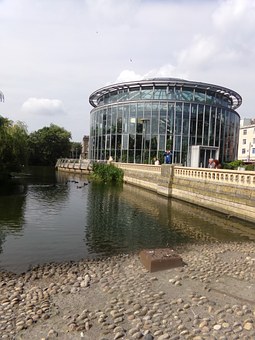 Winter Gardens
For Art lovers paintings by LS Lowry amongst others can be seen in the art gallery at Sunderland Museum.
The Empire Theatre in Sunderland is one of the regions major theatres and is worth visiting for its architecture alone never mind the varied programme of ballet, opera, drama and musical entertainment.
If you love shopping try The Bridges in Sunderland, there is free parking in the city after 3 on Thursdays in council car parks.
FURTHER AFIELD
Further afield one of the most beautiful historic sites has to be the UNESCO World Heritage Site of Durham Castle and Cathedral. It is more than worth the walk up the hill and is easy to get to  from Sunderland bus station for those who don't drive. For those who do drive be aware that Durham has a Road User Charge Zone (Congestion Charge) which is aimed at reducing traffic on the peninsula. Park at the Prince Bishops shopping centre for the nearest parking to the peninsula. Parking isn't cheap so do some research for the cheapest place to park if you aren't bothered about walking some distance. Better still take the bus from Sunderland! Once in Durham if you don't fancy the walk up the hill there is a cathedral bus which will take the hard work out of your visit. Just be aware that Durham Castle is part of Durham University and may not always be accessible to members of the public.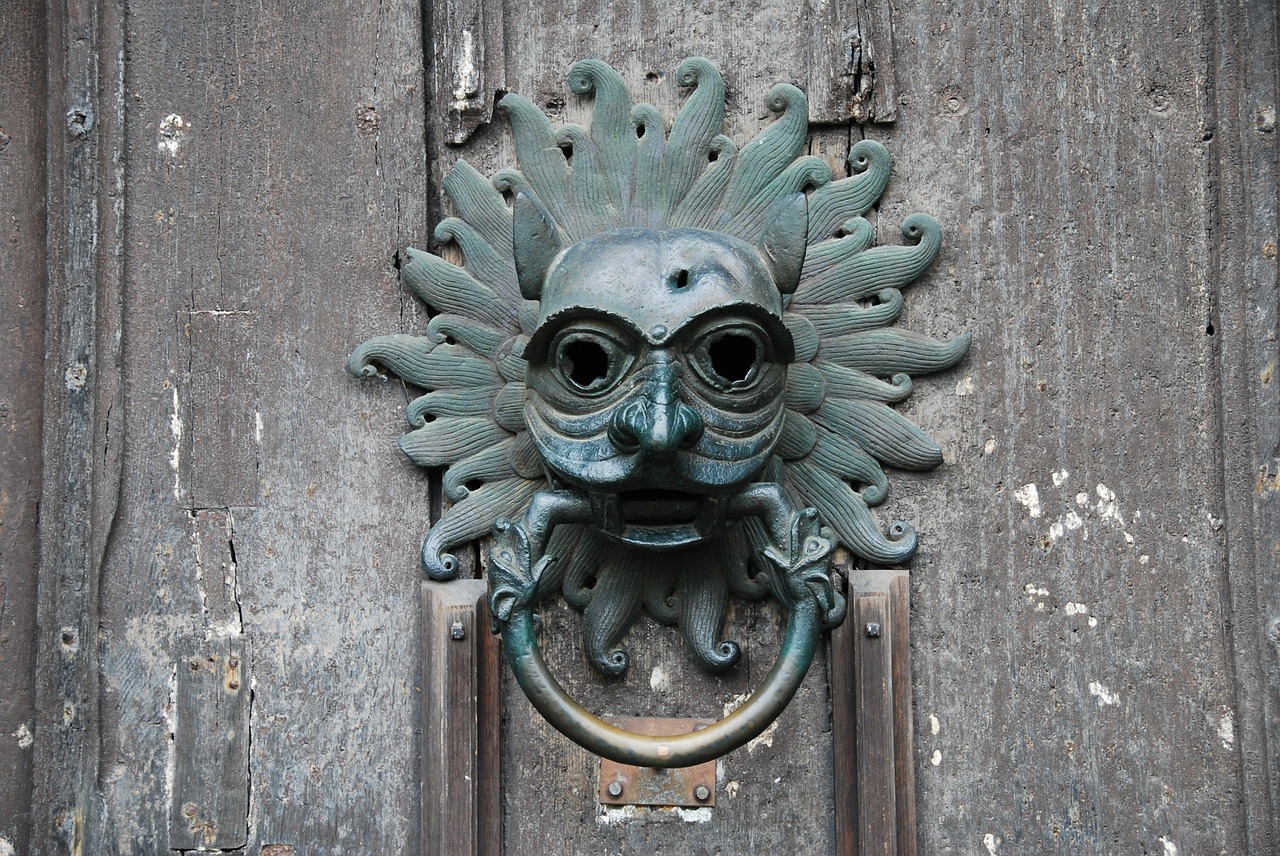 Sanctuary knocker, Durham Cathedral
For something even older, remains of the Roman occupation can be found at Arbeia Roman Fort in South Shields. Take note it is only open between April1st to Oct 1st. If you can't get enough of Roman forts then there is another to visit at the eastern end of Hadrian's Wall at Wallsend called Segedunum.
For a day out down the coast visit National Museum of the Royal Navy which recreates an 18th century seaport as well as being home to HMS Trincomalee, the oldest British warship still afloat. Call in at Seaham on the way to see Tommy one of the most poignant memorials to those who died in the First World War. The steel statue created by Ray Lonsdale is entitled 11 'o' 1.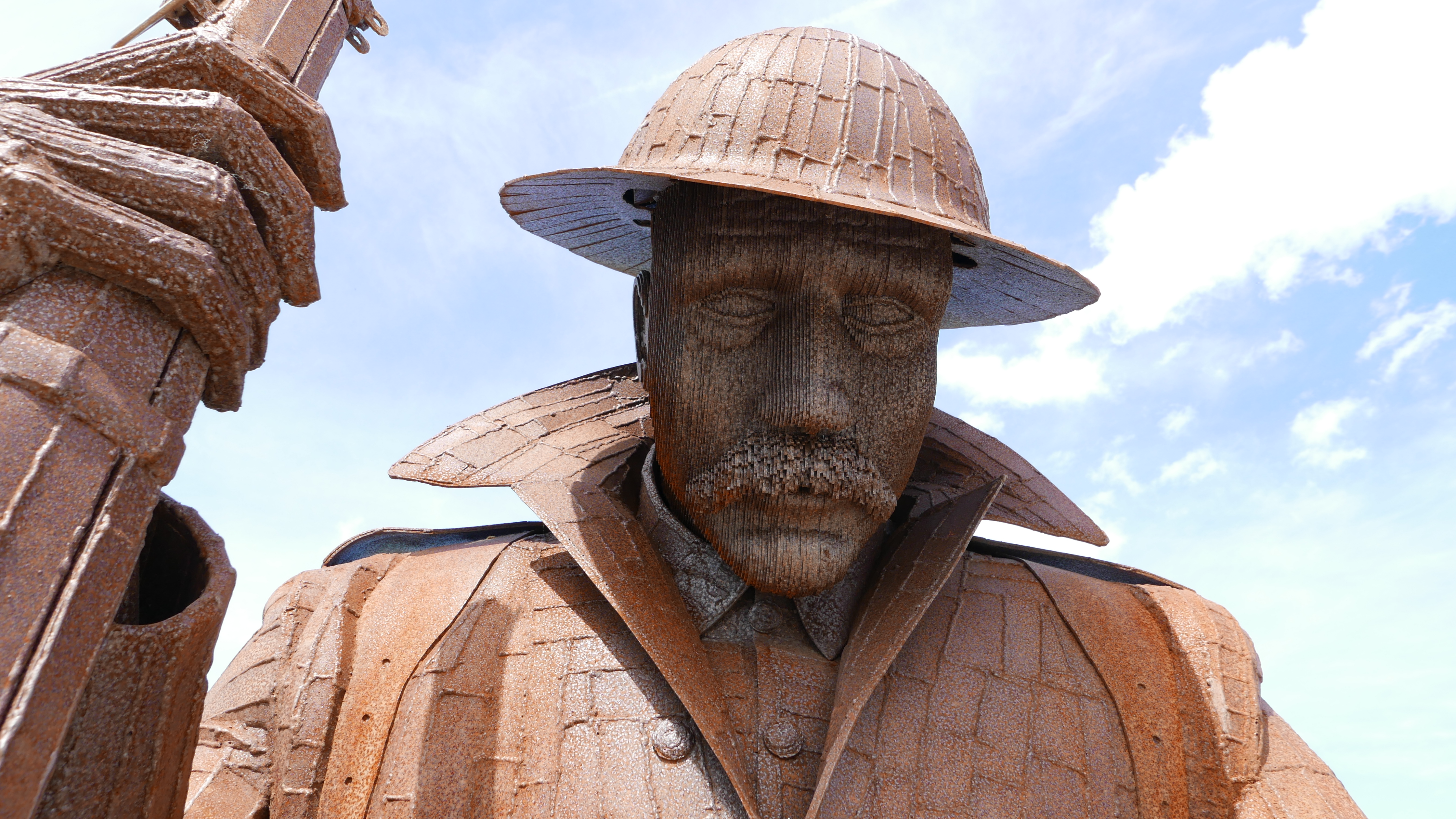 11'o'1 known locally as Tommy
Beamish Open Air Museum is a thirty minute drive away and depicts life in north-east England in the 1820s, 1900s and 1940s. There is plenty to see at Beamish and tickets last for a year so you could more than get your money's worth with a couple of visits during your stay! Buy your lunch of fish and chips in Beamish from the coal fired Edwardian Fish and Chip shop and eat them the old-fashioned way - out of newspaper. It must be said the newspaper is far more sanitized than I remember from my childhood.

AND THERE IS ALWAYS NEWCASTLE
A visit to Newcastle is well worth while, you can catch the Metro from St Peter's or the Stadium of Light (behind Tesco's) and it will save all the problems of parking in Newcastle. If you like Art then try the Baltic in Gateshead and the Laing in Newcastle. For more contemporary mixed media exhibitions there is the Biscuit Factory in Newcastle the UK's largest art, craft & design gallery.
If you have any budding authors in the family they will probably want to go to Seven Stories in Newcastle. Seven Stories is the National Centre for Children's Books and has one of the biggest and best independent children's bookshops in the country. Their events guide is worth checking.
Just the other side of the Tyne is the Metrocentre in Gateshead, one of the largest shopping centres in Europe
WANT SOMETHING MORE ENERGETIC?
If it's walking that you want try the area around Souter Lighthouse, the Guardian suggest a 6 mile walk from Souter Lighthouse to South Shields but don't forget to check the bus times back. Souter Lighthouse is a National Trust property and the first lighthouse in the world to be designed and built to be powered by electricity so pop in for a visit before you start your walk.
There are various walks you can do in Newcastle including Jesmond Dene and the urban National Trust Route 1 which takes you around central Newcastle.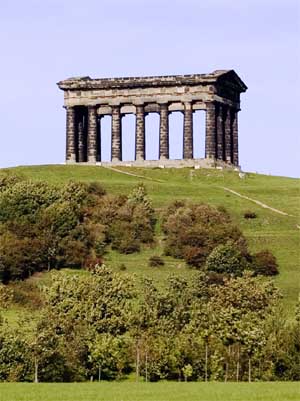 Penshaw Monument

Herrington Country Park, overlooked by Penshaw Monument, and recommended as a good park for runs in the Good Run Guide is on the outskirts of Sunderland. It offers walking routes of 1, 2 and three kilometers, just follow the green, blue or red arrows around the park.You will come across these Active Sunderland 321 routes in many of the parks, the nearest to Thistledowne is Roker Park (and I bet you thought it was a football ground!).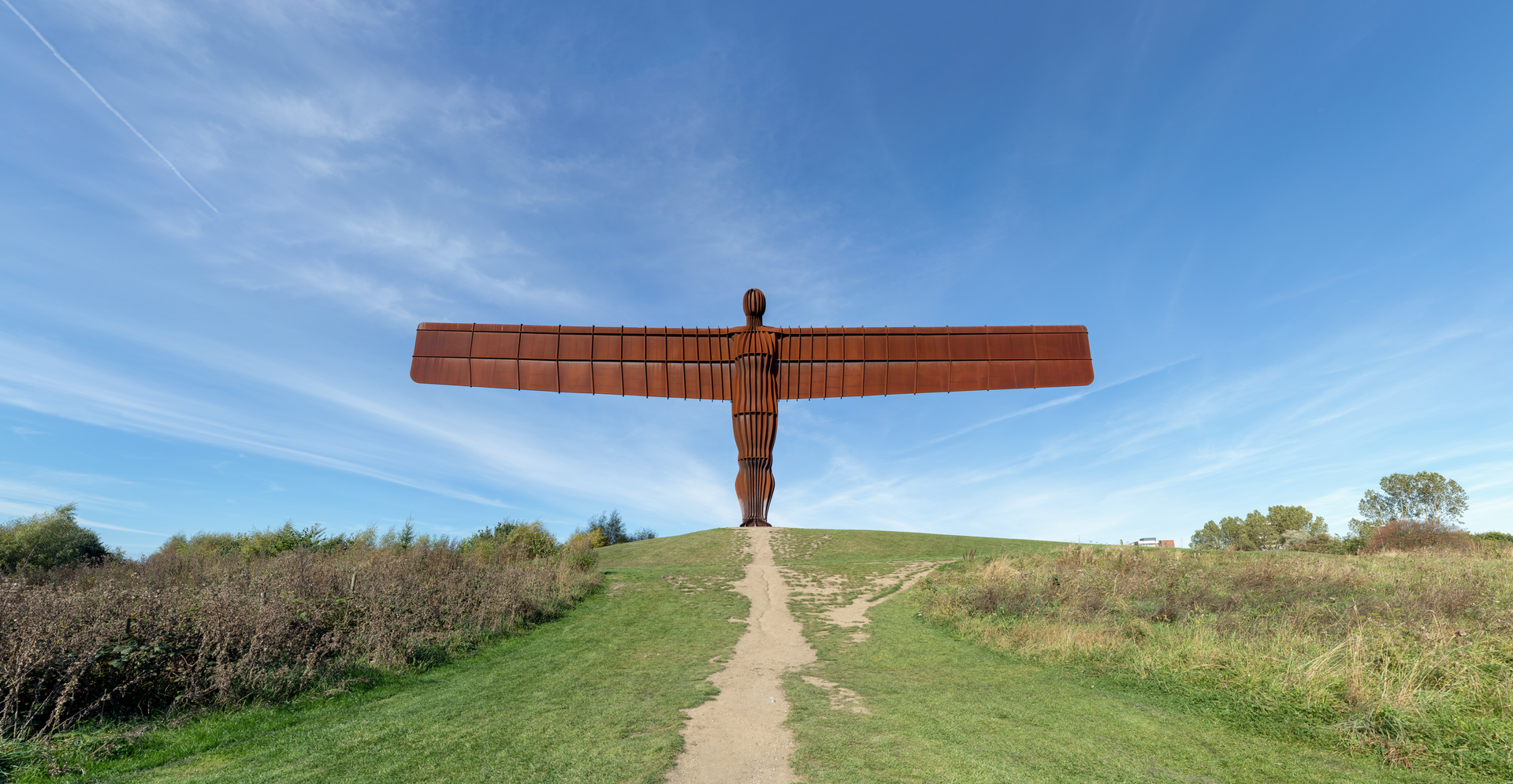 Angel of the North

Making a special trip to see the Angel of the North is perhaps not worth the effort but if you are in the vicinity you may as well take an extra 10 minutes to stroll up to the top of the hill and admire Antony Gormley's masterpiece close up.
Washington Way offers beautiful green spaces, interesting wildlife and key heritage attractions and on a sunny day it is worth taking a picnic and spending a few hours enjoying the area around Washington village.
If you would like a cycle ride then bikes can be hired in the city at Darke Cycles or by the beach at Roker Cycle Hub which is located on Marine Walk. Cycle from Roker beach to Beamish, 15 miles plenty of which is traffic free.
Consett and Sunderland Railway path follows the old railway track for much of its distance. The route is 26 miles one way but it is ideal for breaking up into sections: Consett to Beamish (10.5 miles each way), Beamish to Washington (7.5 miles) or Washington to Sunderland (8 miles).
Two Rivers Cycleway joins the rivers Wear and Tyne, a 10 mile cycle route mostly off road.
Sunderland Aquatic Centre, completed in 2008, is a major leisure complex next to the Stadium of Light. It offers an Olympic size swimming pool as well as a multi-purpose sports hall and gym.
The nearest gym to Thistledowne is at Tesco Extra, the Pure Gym is a 24 hour gym and one day passes start at £5.99.
Adventure Sunderland offers open activity sessions as well as individual or small group coaching in a large variety of activities. If you've ever wanted to jump off Roker Pier or learn how to sea kayak or how to build a raft or rock climb etc. etc. then get down to the Marine Activities Centre on Marine Walk and have a word with one of the staff. Both adults and children can take part. They have both Open Sessions and two hour Private Sessions if you would like to make it a real family activity.
Ten pin bowling is available at Riverside Bowling along with air hockey and pool tables.
Even without any snow the family can always learn to ski or snowboard at the Silksworth Sports Complex and Ski Slope. One of the premier ski/snowboard centres in the country it teaches skiing and snowboarding on three dry slopes to beginners as young as four years' old. There are nursery slopes for children and those that are just getting started whilst for more advanced skiers and snowboarders there is a 165m slope.

AND YET MORE FOR ALL THE FAMILY
Sunderland Wall is one of the largest indoor climbing centres in the UK and can cater for groups or families. The Rock Monkeys and the Gecko Club at the centre will teach children to climb safely, the Gecko Club is for 3 to 7 year olds.
Laser Quest Sunderland is the ultimate sci-fi action adventure apparently!!
Clue HQ Live Escape games including " Bunker 38 - You've been living in an underground bunker for years due to a radiation leak. Now you've been given the all clear, but you're locked in and oxygen levels are running low! With only 60 minutes of breathable air left, will you be able to escape in time?".
About a 20 minute drive from the house is Karting North East which offers not only karting but a purpose built WW2 themed paintball facility as well as off road driving in ex-Army Landrovers.
Ryhope Engines Museum is for anyone who has a desire to understand the workings of a double-acting, compound rotative beam engine or just anybody who admires Victorian construction and engineering.
First class County cricket can be watched at the impressive Riverside ground in Chester-le-Street and last but by no means least you can watch league football at the Stadium of Light in Sunderland within walking distance of the house.
It may be worth taking a look at the northeastfamilyfun blog as that will have up to date information on activities for all the family in the region
 CHILDREN ONLY
If you are looking for something a little different try Rosebud Ceramics for children who want to paint their own pottery moneybox or tableware etc.
ADULTS ONLY
If you want some evening entertainment try the local casino in Sunderland or go to the dogs!
Save
Save
Save
Save
Save
Save
Save
Save
Save
Save